Oriental Hotel Kyoto Rokujo - Independent Review
Experience Kyoto's timeless beauty at Oriental Hotel Kyoto Rokujo, where traditional hospitality and exquisite design blend seamlessly for an enchanting retreat
Apr 30, 2023 | Read time 9 minutes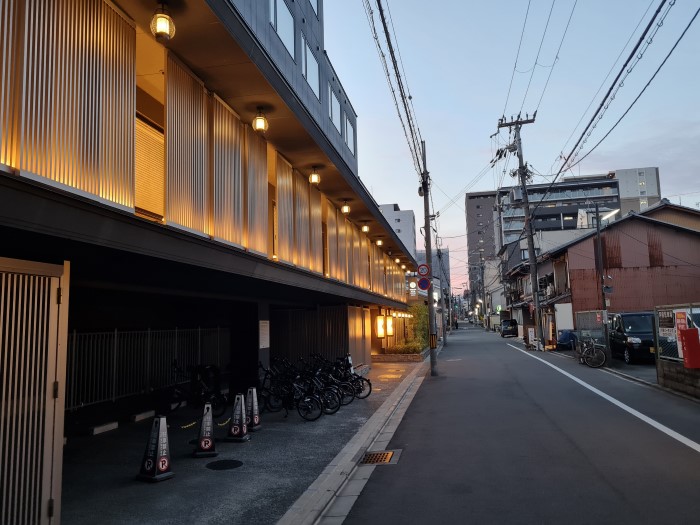 Table of contents
Welcome to my review of the Oriental Hotel Kyoto Rokujo, a luxurious 4-star Kyoto hotel located at 181 Bokumikanabutsucho, Shimogyo Ward, Kyoto.
I had the pleasure of staying at this hotel for 4 nights and want to share my experience.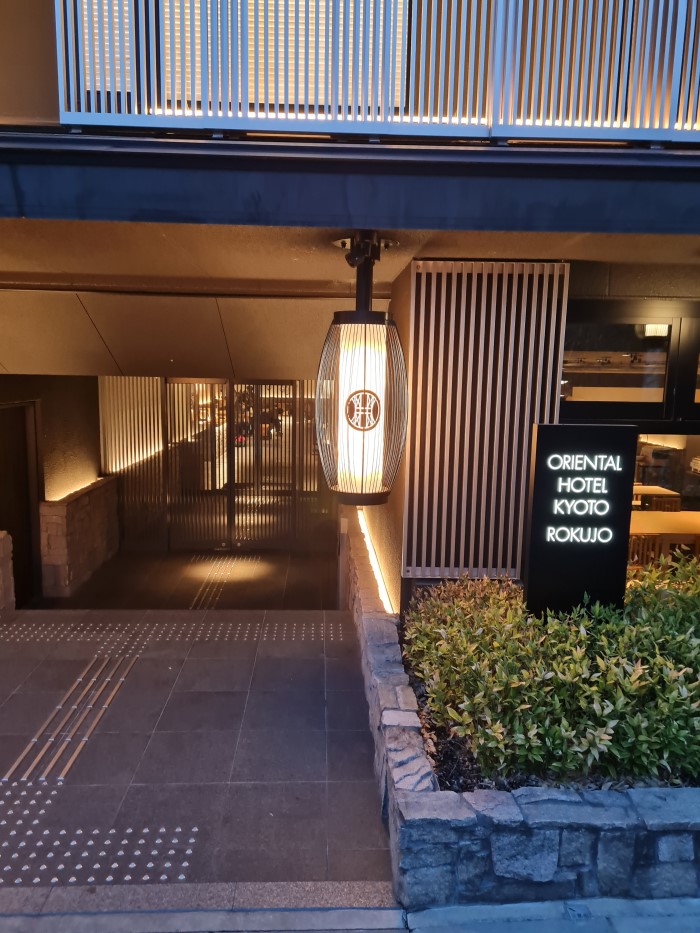 The front entrance of the Oriental Hotel Kyoto Rokujo
Overview of the hotel
"Home Sweet Hotel." That's the sentiment that swelled up inside me after spending a few days at the Oriental Hotel Kyoto Rokujo.
While Kyoto's bigger sister, Tokyo, might be all about the skyscrapers and neon lights, the Oriental Hotel Kyoto Rokujo has a certain enchanting charm that pulls you in, surrounds you with warmth, and makes you feel like you're right at home.
Kyoto, a city that was Japan's capital for a whopping 700 years, is riddled with historical weight that's almost tangible.
The Oriental Hotel Kyoto Rokujo, with its 4-star rating, sits right in the middle of this city, encapsulating its essence, its culture, and its undying spirit. And boy, what a spirit it is! Kyoto has seen times that predate the existence of some countries, imagine that!
Check-in starts at 3pm and check-out is at 11am. There are options to have early check-in but you will have to pay extra.
From free wifi to shared laundry services, vending machines to free coffee between 3pm and 6pm - it's all about the little things.
Oh, and did I mention that the hotel reception staff speak English and super friendly? That's right, you won't have to brush up on your Japanese!
The hotel rooms are equipped with chargers that come with usb ports and standard AC electricity ports, so you don't have to worry about your gadgets running out of juice.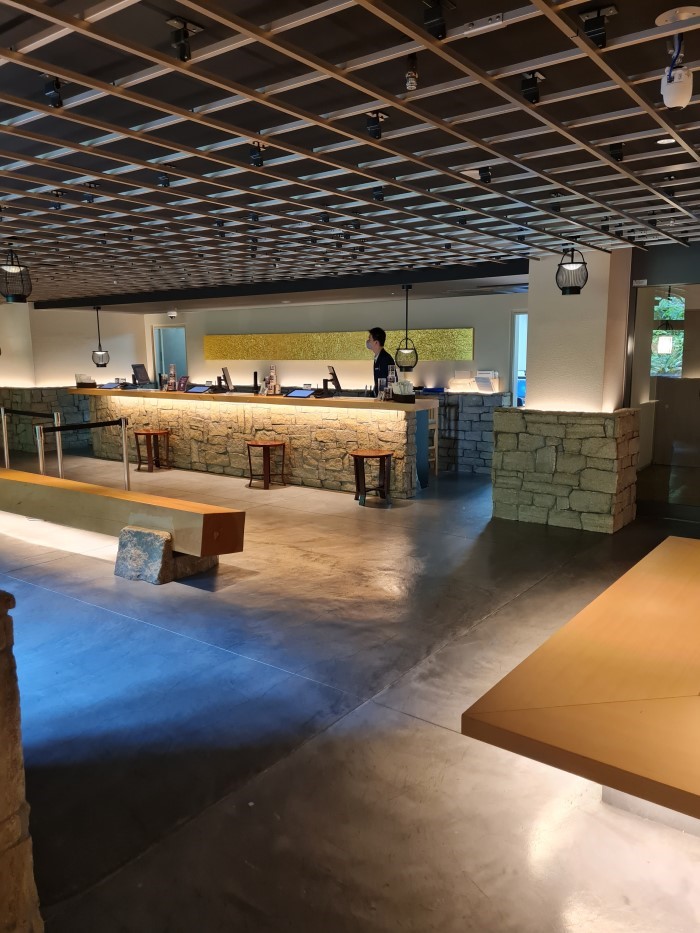 The reception area of the Oriental Hotel Kyoto Rokujo
Rooms and their costs
The Oriental Hotel Kyoto Rokujo offers a variety of rooms, from standard, twin, double, to corner suite and king rooms.
You can decide whether you want to soak up the Japanese culture through and through by opting for a Japanese style futon bed configuration, or you could stick with the regular western style bed. The choice is yours!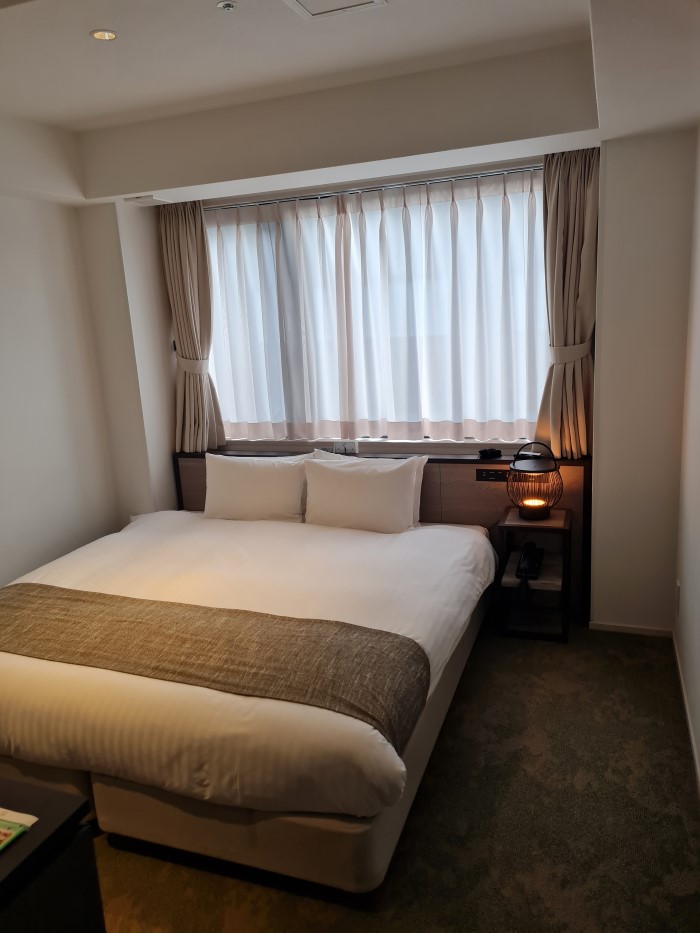 Picture of Double room with western bed configuration. There is also option for Japanese style beds (futon)
The rooms are newly built and quite spacious and comes with a large TV 43" and bathtub!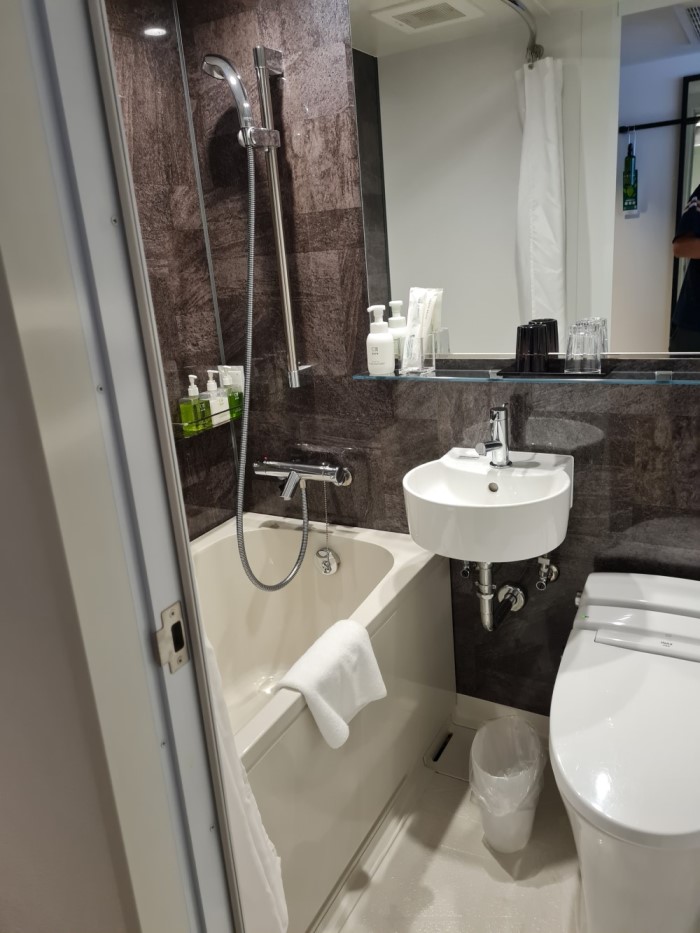 Bathroom with basic toilet and bathtub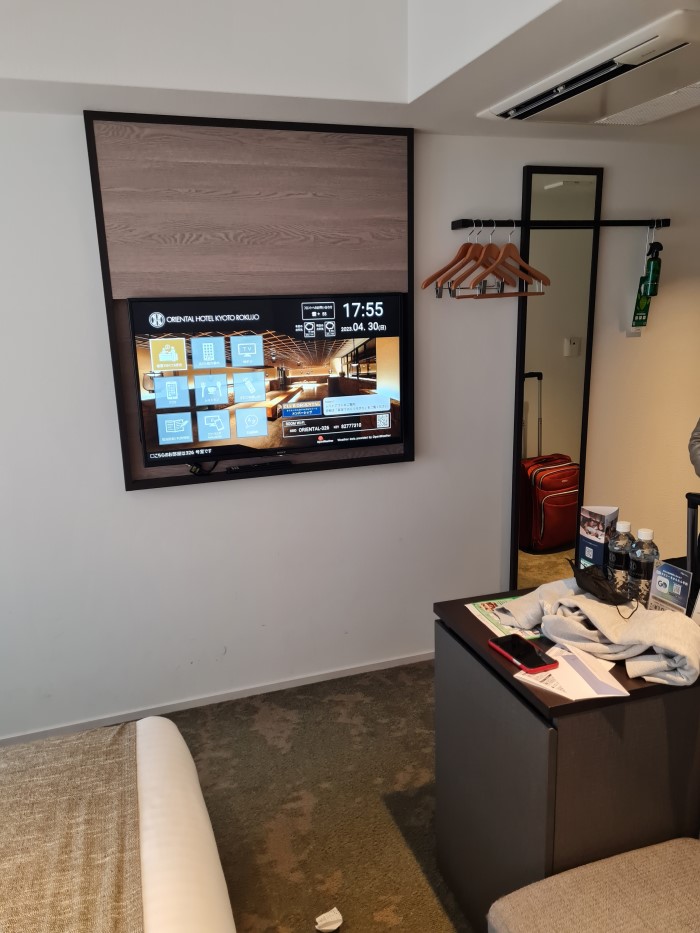 The double room with 43" TV
Accommodation tax
Keep in mind that when you are staying at Kyoto, you will also need to pay a accommodation or city tax. This is generally is 200 yen per person per night.
In my case, I had 4 people staying for 4 nights, so that equates to 3200 yen!
How is the location?
Now, let's get to my favorite part - the location. This hotel is nestled in the heart of Kyoto.
It's a mere 15-minute walk from Kyoto Station, making it a fantastic base for your adventures in this historic city.
Getting to the hotel is a breeze, thanks to the numerous transport options available. You can hop onto the subway and get off at JR Kyoto Station, followed by a 15-minute walk.
If you prefer the bus, you can stop at Nishinotoin-Rokujo on the No. 50 municipal bus route and walk for 2 minutes.
There's also the Nishihonganji-mae stop on the No. 9 municipal bus route with a 5-minute walk.
If you're traveling with heavy luggage, a taxi might be your best bet - just give them the phone number, 075-343-8111, and they'll whisk you straight to the hotel.
Things to do nearby
Sightseeing spots such as the Nishi Honganji Temple, Higashi Honganji Temple, and Shoseien Garden are just a stone's throw away.
The true beauty of staying at the Oriental Hotel Kyoto Rokujo is that you're literally sleeping in the lap of history.
Furthermore, only a 10-minute walk away, you can find convenience stores like 7-11, Lawson, and Family Mart.
Perfect for those late-night snack cravings, or if you need to pick up some last-minute essentials.
Some restaurants and cafes that I went to nearby:
Asahitei
Small Cake Shop Tomute
Cafe Raman
Public baths
There is a public bath "Hakusanyu" (Rokujo and Takatsuji) within walking distance from our hotel. There are various baths such as spacious bathtubs, jet baths, and electric baths. In addition, it is a popular sento with a high-temperature sauna that is always over 110 degrees Celsius, a water bath with free-flowing natural underground water, and an open-air bath that can be bathed in the open air.
[Public bath "Hakusanyu" Rokujo branch] ◎ About 5 minutes on foot from the hotel Business hours: 3:00 pm to 12:00 midnight (7:00 am to 12:00 midnight on weekends and holidays) *Closed on Wednesdays

[Public bath "Hakusanyu" Takatsuji branch] ◎ About 7 minutes on foot from the hotel Hours: 3:00pm to 12:00am (Sunday 7:00am to 12:00am) *Closed on Saturdays
Who should stay here?
The hotel is great for couples, singles and family guests. It contains amenities that would be suitable for these types of guests and at a good location so that you do not have to waste your time traveling.
Hotel rooms are quite large so can accommodate a family of 4 - it even comes with a bathtub!
Tips and tricks for the best stay
There is not a lot of restaurant options nearby to you will need to travel to Kyoto Station for more food options
Keep in mind that there is a accommodation tax or city tax on-top of your booking cost.
There is a bike hire service for around 300 yen. The bikes are not great but good for you to zip around the neighborhood.
If you are traveling around Kyoto, the hotel can send your luggage to the next hotel that you are staying!
My Cons for staying at Oriental Hotel Kyoto Rokujo
Its not all roses and butterflies with my stay at this hotel. Some of my gripes for this hotel includes:
Not a lot of good restaurant options. There are a few ramen places, but it does not look too appealing.
You can get run over since the roads are quite narrow.
Its not a popular hotel, so when going by taxi, make sure you have the hotel card or their telephone number.
There is no gym facility
The breakfast menu does not have many options for vegetarians
It does not seem like the hotel is pet friendly. There no spaces for your pet to freely run around and that the wooden flooring wont help with that either!
The room I booked is a double room and did not have a table
Summary
In summary, I highly recommend Oriental Hotel Kyoto Rokujo for anyone looking for a comfortable and convenient stay in Kyoto.
The hotel's modern amenities, friendly staff, and prime location make it an excellent choice for your next Kyoto trip.
This is suitable for any type of guest - from single/ solo travelers to a small or large family. However there are downsides as well. This includes there is no gym facility, not too pet friendly (no open spaces for your furry friends to run around) and that there are no good restaurant or cafes nearby.
Although this can be overcome by just walking to JR Kyoto Station - which is about a 15 minutes away.
If you're planning to visit Kyoto soon, be sure to add this hotel to your list of top Kyoto hotels!
See also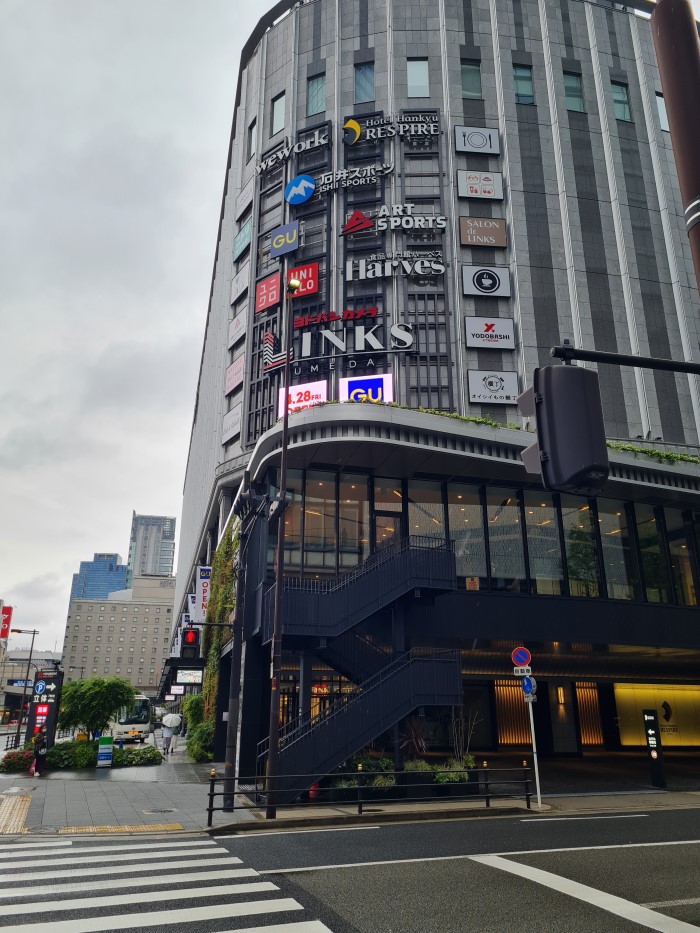 Apr 29, 2023
Hotel Hankyu Respire Osaka offers a perfect blend of elegance, exceptional service, and a prime location, ensuring a delightful and memorable stay in Osaka
About me
Hi there, I am James and I love exploring countries like Japan, Vietnam, and Singapore.
My blog focuses on budget travel and offers tips on how to save money while still having a great experience. I share honest reviews of hotels and restaurants, and my travel guides are designed to inspire others to embark on their own adventures.