Does the JR Pass cover Tokyo Subway?
The JR Pass does not cover Tokyo Subway - here are some tips we can get around that!
May 26, 2023 | Read time 12 minutes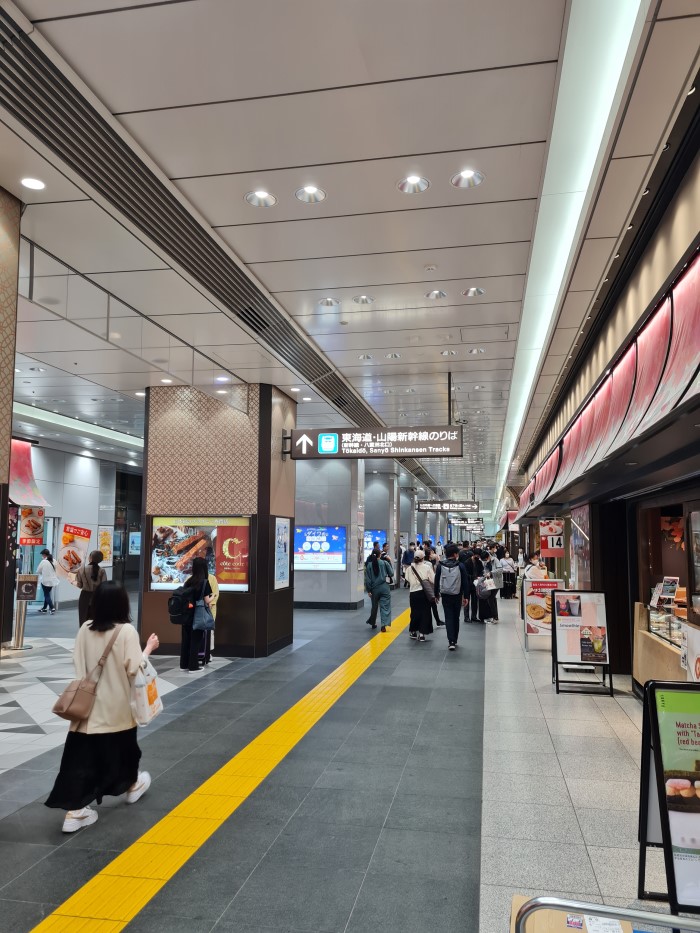 Table of contents
Introduction
Ever wondered if your recently purchased JR Pass will cover the Tokyo Subway lines? Simply put the JR Pass will NOT cover Tokyo subway lines.
When I first was traveling to Japan, figuring out the train and subway system was quite daunting. In part it was due to the language that I was not familiar with.
I thought, I would just need to buy the JR pass and everything was golden - I am going to be covered! That turned out to be so wrong, but hopefully in this post, I can help you understand and navigate around Tokyo's train and subway system.
The JR Pass does not cover Tokyo Subway

You will need to buy separate tickets from Tokyo Metro or Toei lines
So here are the quick notes to allow you to understand a high level of the train and subway system.
They are operated by different groups. The trains are operated by JR Group (which will be covered by your JR pass). The train lines are on the ground level. If you have a JR pass, you can freely travel on these lines (within your specified period - 7, 14 or 21 days)
The subway system is operated by two main groups - Tokyo Metro and Toei Subway. The subway lines are underground.
Both of these extensive transportation networks serve as a great way for navigating the vibrant city, but they have distinct characteristics that set them apart.
Difference between JR Lines and Tokyo Subway Lines
The Tokyo subway system and the JR lines provides a great way to go around Tokyo. Here are some key differences between the Tokyo subway and JR lines:
The Tokyo subway consists of several operators, such as Tokyo Metro and Toei Subway. As for the JR lines, they are operated by the Japan Railway Group. If you are traveling using the subway, you may need to change tickets. Tokyo Metro and Toei use the same lines but it's important to note that tickets and passes are generally not transferable.

The JR lines will get you most of the touristy spots around Tokyo. However it can be limiting. This is where the subway lines can help. The subway lines in Tokyo offer comprehensive coverage throughout the city, reaching even the most remote neighborhoods. This makes it an excellent choice for exploring various attractions, shopping districts, and entertainment hubs within Tokyo's urban landscape.

Both JR and subway services are pretty frequent and arrive accurately. The subway trains also tend to be faster than JR lines. Usually I find locals use the subway more so than the JR lines due to their speed and coverage.

Fare System: The Tokyo subway operates on a distance-based fare system. Passengers pay according to the distance traveled, with fares ranging from around 170 to 300 yen per ride, depending on the distance and the specific subway operator. For frequent travelers, it's advisable to purchase an IC card like Suica or Pasmo for seamless entry and fare calculation. Unlike the distance-based fare system of the subway, JR lines typically operate on a zone-based fare system for long-distance travel. For shorter trips within Tokyo, such as on the Yamanote Line, a fixed fare system is in place, making it easier to navigate and calculate fares.

JR pass will give you access to more regional areas and you can travel to other cities like Kyoto, Osaka, Hiroshima, etc using the Shinkansen.

From my personal experience, I found that the JR trains are more English friendly and seem to be more up to date. The subway trains still have those old digital signs and mostly in Japanese. There is limited English.
Going to places thats outside the main tourist areas

Lets say you want to go to the Tsukiji Outer Market from Tokyo Station. So if you only have a JR pass, you can not do it (unless you want to walk a long distance) since the JR lines.

This is when using the subway (Tokyo Metro) comes in - you just need to board the Hibiya Line (H) and stop at Hibiya Station. Its then a 400 meter walk to the Tsukiji Outer Market.
Tokyo Metro subway lines
Chiyoda Line (C),
Ginza Line (G)
Hanzomon Line (Z)
Marunouchi Line (M)
Namboku Line (N)
Tozai Line (T)
Yurakucho Line (Y)
Fukutoshin Line (F)
Hibiya Line (H)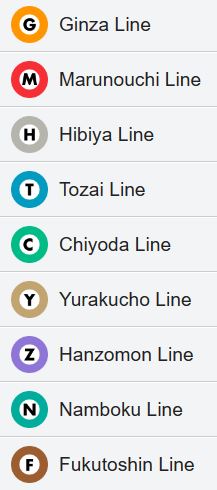 Toei Subway subway lines
Asakusa Line (A)
Mita Line (I)
Oedo Line (E)
Shinjuku Line (S)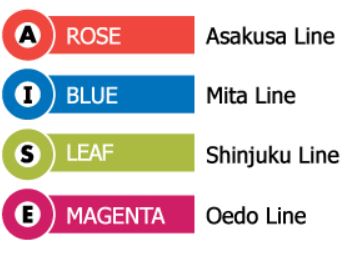 Tip on buying subway tickets
If you do not want the hassle of buying individual tickets on every subway trip, you can purchase one day or multi-day tickets. This will cover both Tokyo Metro and Toei subway lines.:
Tokyo Subway 24-hour Ticket – Adult: 800 yen, Child: 400 yen
Tokyo Subway 48-hour Ticket – Adult: 1,200 yen, Child: 600 yen
Tokyo Subway 72-hour Ticket – Adult: 1,500 yen, Child: 750 yen
You can purchase this at Haneda or Narita airport. If you are in downtown Tokyo, you can buy them from:
Tokyo Metro Pass Offices, which are open from 7:40 to 20:00,
Tokyo Metro Tourist Information centers, open from 9:00 to 17:00. The Tourist Information centers can be found at Ueno, Ginza, Shinjuku, Omote-sando, and Tokyo stations.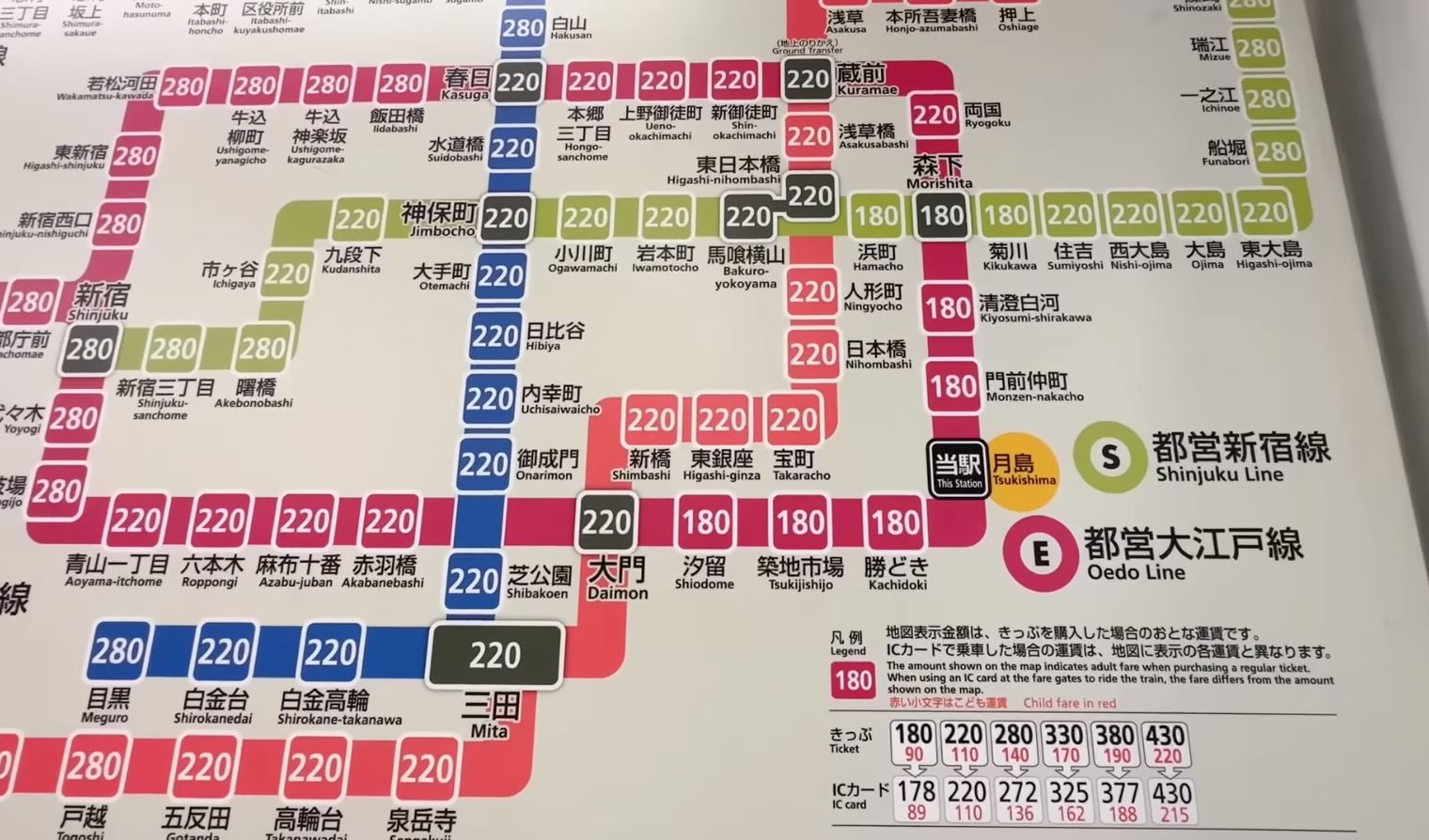 JR Lines in Tokyo
When in Tokyo, the company that operates the JR lines is JR East. Below are some of the popular lines that you can board to get to most touristy destination:
Yamanote Line: This is one of the more iconic lines of the JR Group. It is a circular line serving Tokyo's main districts, the Yamanote Line has extremely high passenger volume.
Chuo Line (Rapid): This line runs through the middle of Tokyo, from Tokyo Station to Shinjuku Station and further to the western suburbs.
Keihin-Tohoku Line: This line connects Saitama, Tokyo, and Kanagawa prefectures, and is often busy because it serves major city centers.
Tokaido Main Line: While JR East only operates the section between Tokyo and Atami, this line is typically busy due to the key locations it connects.
Joban Line: Despite being affected by the Fukushima Daiichi nuclear disaster in 2011, parts of this line continue to serve a significant number of passengers.
Saikyo Line: This line links the cities of Saitama and Tokyo, and it's frequently used by commuters.
Sobu Line (Rapid): It is a major commuting line between Chiba and Tokyo.
Shonan-Shinjuku Line: This line links major cities in the Greater Tokyo Area and Kanagawa prefecture.
Is JR East the same as JR Group?

The JR Group refers to the seven companies that were created during the breakup of the government-owned Japanese National Railways (JNR) in 1987. These companies are:

JR Hokkaido (Hokkaido Railway Company)
JR East (East Japan Railway Company)
JR Central (Central Japan Railway Company)
JR West (West Japan Railway Company)
JR Shikoku (Shikoku Railway Company)
JR Kyushu (Kyushu Railway Company)
JR Freight (Japan Freight Railway Company) Each of these companies operates independently within its own region, and they all cover different geographical areas of Japan.

JR East, or East Japan Railway Company, is one of these seven companies. It operates in the Kanto and Tohoku regions, which include Tokyo and its surrounding prefectures. It's one of the busiest of the JR companies in terms of passenger volume, mainly due to the population density of the area it covers. JR East operates all of the rail services in this region, which includes urban transit in Tokyo, commuter rail services, and long-distance trains.
How to get your JR Pass
One of the weird things about JR passes is that you will have to buy it BEFORE you have traveled to Japan. You will buy it first in your country (in my case Australia), you will then receive a receipt (exchange order).
When you finally travel to Japan, you will have to exchange it to the the actual JR Pass
Purchase the Japan Rail Pass Select the Japan Rail Pass suitable for your needs from the options available. Passes range from 7, 14, or 21 days, with Economy and Green (premium) classes. Both adult and child passes are offered. Please be mindful that the Exchange order is valid for 3 months from the date of issue. Plan your usage date within this validity period.

Get Your Exchange Order Post-purchase, an Exchange Order will be delivered to you via Australia Post Express Mail. This document is equivalent to your actual pass, as it will be exchanged for the Japan Rail Pass later.

Obtain Your "Temporary Visitor" Stamp/Sticker Upon landing in Japan, Australian passport holders will automatically receive a temporary visitor stamp/sticker in their passports. Those visiting for work or study purposes will not receive this. Passport holders of other countries should verify their VISA requirements beforehand.

Convert Your Exchange Order into a Japan Rail Pass To receive your Japan Rail Pass, find the nearest JR Exchange office. Present your passport, temporary visitor stamp, and exchange order to convert your exchange order into a Japan Rail Pass. During this process, you will be asked to set an activation date, which can be up to 30 days from the exchange date. Hence, immediate usage of the pass is not obligatory.
Final thoughts
In summary you can not use the JR pass in the Tokyo Subway. You will need to purchase tickets from Tokyo Metro or Toei Subway.
Overall it comes down to how you want to travel around Tokyo. If want to do a lot of local travel around Tokyo, then I would suggest you get the Tokyo subway pass - which allows unlimited travel on Tokyo Metro and Toei lines.
The JR pass can get you around Tokyo and to the main touristy spots - but it does not cover as much as the subway.
If you want to travel outside of Tokyo and to other regions like Kyoto, Osaka - then getting the JR pass the way to go.
See also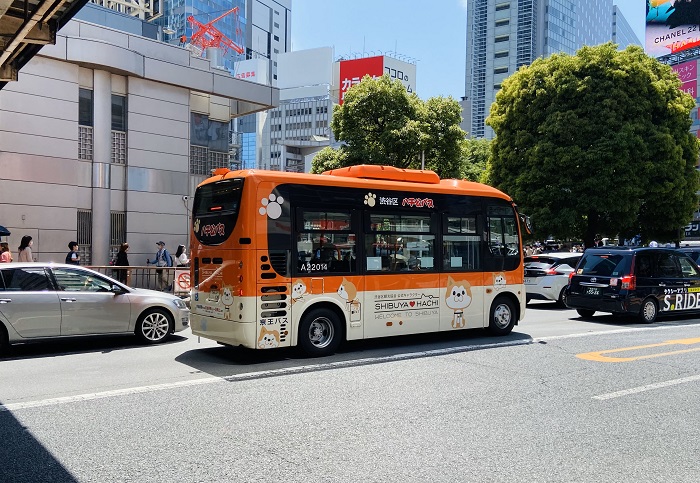 May 24, 2023
Tips to use JR pass on buses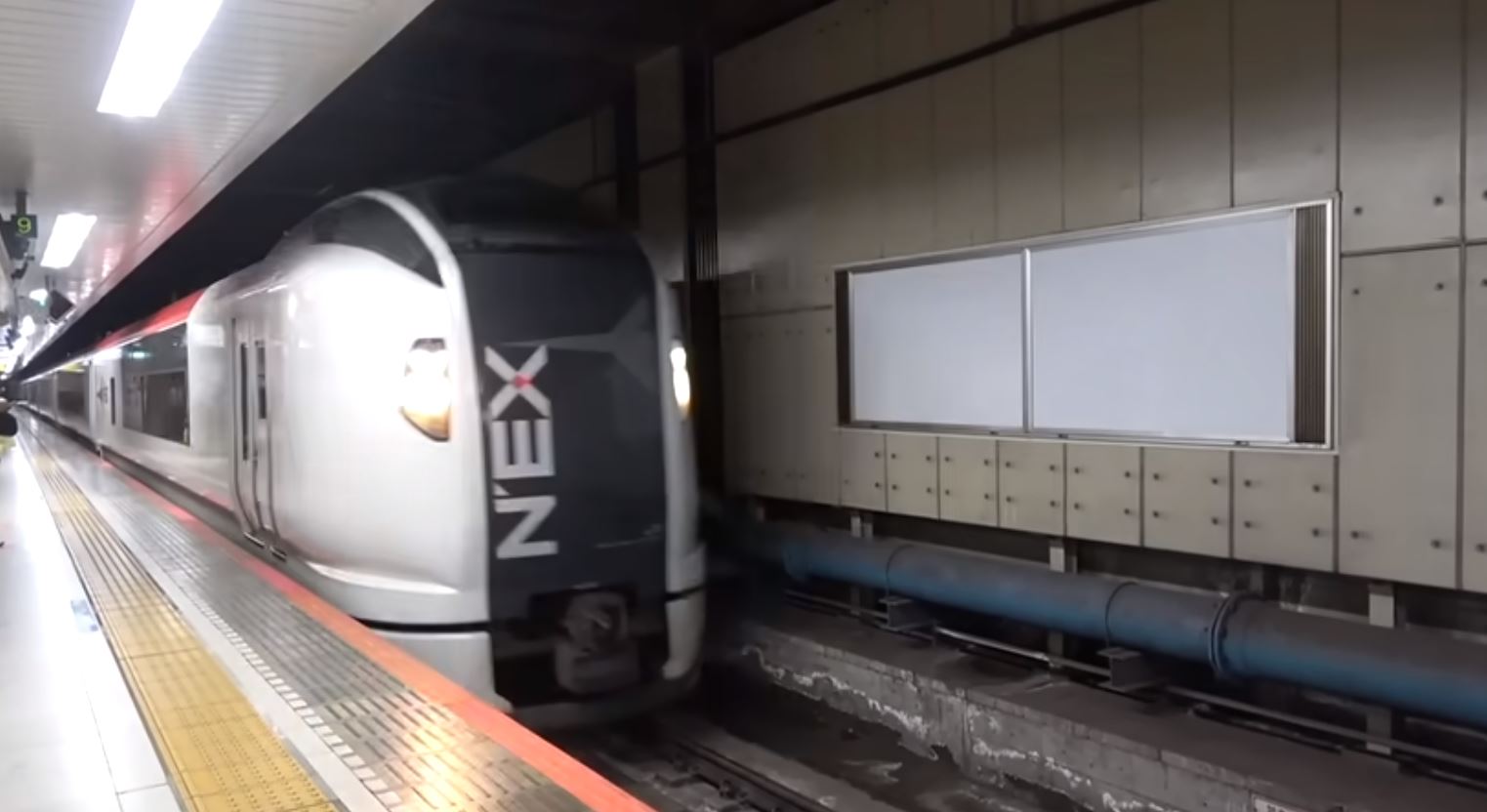 May 23, 2023
Traveling on the Narita Express with your JR Pass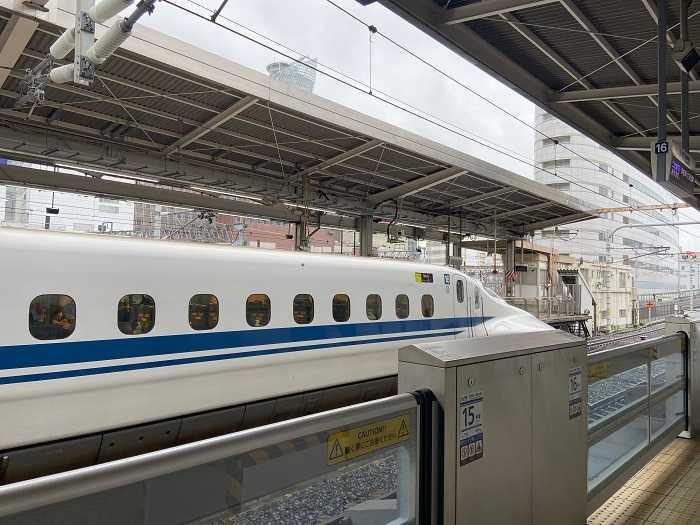 May 23, 2023
Yes you can use the JR Pass for the Shinkansen. Only exception is the Nozomi and Mizuho train services!
About me
Hi there, I am James and I love exploring countries like Japan, Vietnam, and Singapore.
My blog focuses on budget travel and offers tips on how to save money while still having a great experience. I share honest reviews of hotels and restaurants, and my travel guides are designed to inspire others to embark on their own adventures.